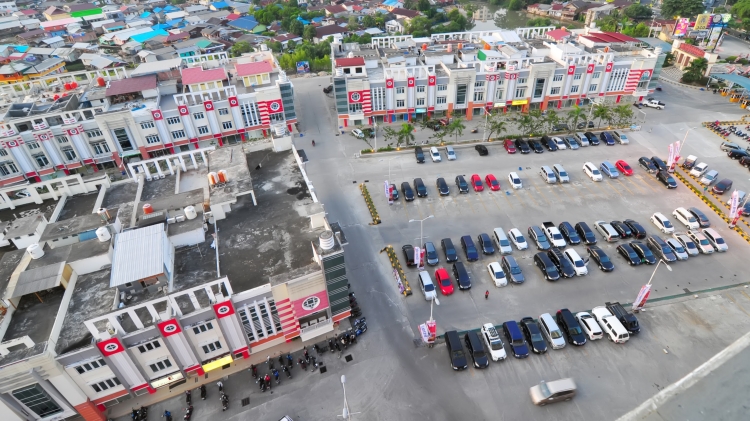 9 Things to do to enjoy visiting Balikpapan
Balikpapan is long cherished as Kota Minyak (Oil City). Many big oil and gas companies operate in this city. That's why Balikpapan is famous among businessmen, both local and global.

Maybe someday you will have to visit this city. And maybe you are wondering how to enjoy this oil city since it's mostly visited for business purposes. Maybe you became worried that the city of eastern Borneo will bore you.

Guess what?...


1. Seafood Madness Time!
The most iconic seafood from Balikpapan is the crab. This crustacean really hypes in Balikpapan makes a lot of food and snack is made by it. If you eager to have seafood madness in Balikpapan and savor the rich taste crab, here's the best recommendation for you.
- Rumah Makan Torani
- Ocean's Restaurant
- Depo Mr. Koki Acang

5. Crossing The Canopy Bridge of Bangkirai Hills
6. Spending overnight on Taman Bekapai
7. Shopping spree of local product in Pasar Kebun Sayur
8. Being local youth by hanging out in Pasar Segar
9. Experience the night market in Lapangan Auri

So, those are the must things to do to fully enjoying Balikpapan. Another wise suggestion for you is "never ever forget to find a great place to rest to make sure you can recharge energy for the next journey". There's a lot of good hotel in Balikpapan that offers high quality for rest. But, which one is worth to consider?
This article came to ease your hesitation about Balikpapan. This time, you will find that Balikpapan is a joyful city. There are various things you can do to enjoy Balikpapan to the fullest. Things that might make you fall in love with this city.
Balikpapan is one of the most mouth-watering seafood cities in Indonesia. This city is located close to Makassar Strait that promises everyone a great quality of fresh seafood. No wonder, you can find one seafood restaurant each 300 meters of the road. Mostly restaurant, from small to exquisite is glad to mention seafood on their menu.

- Dandito Restaurant

(Jalan Marsma Iswahyudi no. 71, 5 mins drive from Sepinggan Airport)
The most popular crab restaurant in Balikpapan is prominent by its giant crab statue on the facade. Kepiting Saus Dandito is the most recommended menu, where the big size of crabs will be stir on their secret red sauce. There's another variant of seafood and vegetable available on the menu too. Sample its grilled seafood, which very tasteful by its turmeric or soy sauce seasoning. You can dine in or take away the crab to be brought home out of town. There's also a stand in Sepinggan Airport so you can buy the crab on the spot with no worries of missed the flight. (Jalan Jenderal Sudirman 73 Stall Kuda, 10 mins drive from Sepinggan Airport)
This eatery sits beside the District Court Office of Balikpapan.
Rumah Makan Torani is famous for its various menu and cheaper price. It offers complete seafood with various ways to cook. The special menus are pepes kepiting (steam crab wrapped in banana leaf) and bandeng tanpa duri (boneless pressure cooked milkfish). The other famous menu in Rumah Makan Torani is seafood steamboat.(Ruko Bandar Balikpapan, 15 mins drive from Sepinggan Airport).
Ocean's Restaurant is listed on Lonely Planet recommendation. This place offers various fresh seafood and serves it on 5 stars restaurant standard. There's also chinese food on the menu and great selection of drinks. The other plus point is the location that sets on the beach side.
(Gunung Bakaran, 10 mins drive from Sepinggan Airport)
This one is really great for the family meal. Depo Mr. Koki Acang is serving seafood and halal Chinese food. You can choose any kind of seafood and request any way of cook to the chef. It offers large portion that can satisfy up to 5 people per portion. You will get addicted to the Sechuan fried banana for the appetizer.
Balikpapan is blessed with numbers of the beach. The beaches in Balikpapan are mostly family friendly and really close to the city. If you love to enjoy the view while taste the street foods, Melawai Beach is the right place to go. When you want to enjoy watersports and some great foodies, you can visit Manggar Beach or Lamaru Beach. If you crave for a serene beach with a few playgrounds for kids, there is Indah Angkasa Beach. When you miss Jimbaran Bali, you can come to Kemala Beach where plenty restaurant on the beach side waiting for you.
3. Say hello to Orang Utan on BOS Samboja

Orang Utan is the iconic animal from Borneo. Once you came to Balikpapan, make sure you don't miss the chance to say hello to this lovely primata. Orangutan Sanctuary and Eco Lodge Samboja is the place where you can volunteer for the preservation research of Orangutan and Borneo Forest. If you have more money, you can also spending a great night in Samboja Eco Lodge and participate on the Orangutan tour.

4. Getting close with the crocodile on Teritip Farm

Close to Manggar Beach, there is Teritip Crocodile Farm that built for preserve this big reptile. You have to visit this farm to getting close with various species of crocodile. Here, you're not only can saw and feed thousands of crocodiles. You can also learn about the crocodile skin business that big in this city. There's a lot of gift made by crocodile skin you can buy in the gift shop. You can challenge yourself to sample the taste of crocodile meat as well.
Don't ever forget that Borneo is a home for the biggest rainforest in the world. You can immerse yourself to the majestic of the forest by visiting Taman Nasional Bukit Bangkirai (Bangkirai Hill National Park). This conservation area is filled with hundred years old giant trees. Feel the sensation of trekking under the 40-50 meters height trees, until you find the Canopy Bridge. This bridge spread along 5 big trees on about 30 meters above the ground, made of wood, wire rope, and net. Encourage yourself to cross the 300 meters long canopy bridge and feel blended with nature. Don't forget to stop by on the KWLPH (Kawasan Wisata Pendidikan dan Lingkungan Hidup) Balikpapan at Jalan Soekarno Hatta KM 23, to see some Sun Bears (the city mascot) while heading back to the city.
Taman Bekapai is one of the most popular main squares on the heart of Balikpapan. It is situated close to Plaza Balikpapan, with many hotels surrounded. Taman Bekapai is the great place to visit while you want to feel the overnight nuance of Balikpapan. You will meet a lot of local people playing with family, dating, or just wandering around while enjoying the food hawkers and free Wi-Fi. The glow of colorful lights will heat up the night!
Though the name means "vegetable garden" (Kebun Sayur), you will find no vegetables here. Pasar Kebun Sayur is more a traditional craft market than a fresh market. Before heading back to your town, you need to round this market to see the beauty of crafts and art products of Borneo. There are the woodcrafts, gemstones, local fabrics (batik and woven), colorful beads souvenirs, and traditional medicines, even Dayak crafts! When you find the right things to buy, don't hesitate to bargain for the best price!
Each city always has a center spot for youth to hangout. In Balikpapan, you may point it directly to Pasar Segar. It is located at Jalan Sungai Ampal no. 90-100, Gunung Samarinda. Pasar Segar is a commercial complex with a fresh modern market and numerous eateries. The restaurants, coffee shops, and cafes in here were cool and cozy that really suitable for youth. You can spend your time here and forget that you are coming from out of town.
If you want to watch the local life, you have to visit the market of each place you've visited. Moreover, visit the night market to feel richer. There's a routine night market taken place in Lapangan AURI (Angkatan Udara Republik Indonesia/ Indonesia Air Corps) every Wednesday and the weekend. There's a lot of thing to sell there. From fresh vegetables, clothes, toys, books, electronic stuff, gadget accessories, to street foods. You have to sample pentol bakar (grilled meatball satay) and salome (dry meatball with special sauce) from the hawkers. This night market also more rousing with children playground in carnival concept. It's cheap yet fun recreation!
Astara Hotel Balikpapan is one of a name worth to consider. This 4 stars hotel becomes one of the most popular hotels in the city. Astara Hotel Balikpapan offers you an opulence accommodation that sets in high standard and modern minimalist design. It also serves you a great experience from its facilities, mentioning 24 hours restaurant, swimming pool, spa and health center, business center, even a direct access to Pentacity Shopping Venue at Balikpapan Superblock that located only 10 minutes from Sepinggan Airport.
Click here and follow updates and promotions from Astara Hotel Balikpapan