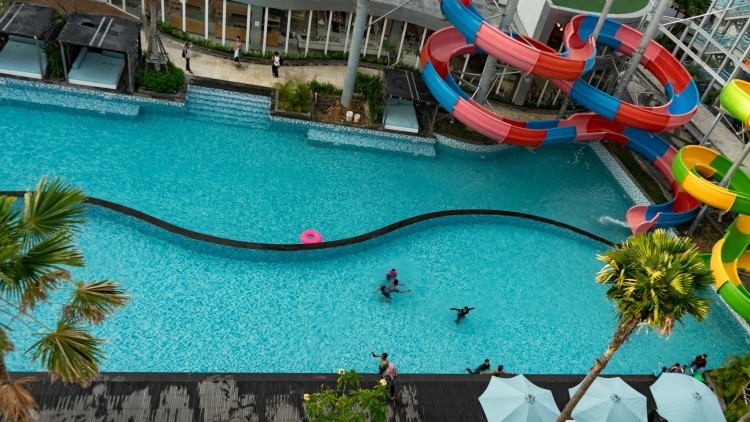 AQUABOOM Waterpark Balikpapan Superblock
Explore your water adventure in AQUABOOM Waterpark Balikpapan
AQUABOOM WATERPARK
Aquaboom Waterpark is the one and only waterpark in Indonesia that is located on the 7th floor of the Pentacity Shopping Venue which is attached to Astara Hotel Balikpapan. This area is an integrated commercial district belongs to PT. Pintu Air Mas Group (PAM Group). Aquaboom Waterpark launched to public in October 2017 and on June 2018 they decided to upgrade its waterpark facility by adding another four new exciting water slide attractions, including the most exclusive led "glow in the dark" slides, that is currently the only one exist in the market to date.
Aquaboom has more than eight amazing water attractions for adults and children. It gives you total enjoyment to spend your time with family & friends. Here some of their existing attractions at Aquaboom Waterpark:
1.Wave Blaster
2.Flash Hole
3.Aqua Loop
4.Superbowl
5.Tornado Slide
6.Family Slide
7.Race Buster
8.Thunder Bolt
9.Wild Coaster ( coming soon )
How to visit Aquaboom Waterpark?
If you are interested in visiting Aquaboom Waterpark you may enter from passenger lift located in Astara Hotel Balikpapan. Once you are on the 7th floor of Astara Hotel Nicopolis Lobby, you go to Aquaboom Waterpark main reception area located just next to Astara Hotel reception counter.
Aquaboom Waterpark has total area of over 8000 square meter space that is occupying almost 80% areas of the 7th floor of the Pentacity Shopping Venue. It's an outdoor water adventure park complete with its private locker rooms, showers, bathrooms, toilets, musholla and 350 seating capacity of Tropical Food Court in its waterpark.
Aquaboom Waterpark Open daily from 09.00hrs until 18.00hrs on weekdays (Monday to Friday), and open late until 19.00hrs on weekends (Saturday, Sunday and Public Holiday)
Entrance is variety from Rp. 90.000/person on weekdays and Rp.120.000/person on weekends. Aquaboom Waterpark may charge higher price on high seasons range up to Rp. 150.000/person, it normally applies during school holiday or national public holiday such Lebaran holidays, Christmas holidays or New Year's holiday.